This auction platform offers reliability, transparency, and efficiency as an added value to any liquidation process. Eactivos.com is the only platform at a national level that centralizes all the management and necessary information for the Administration of Justice, insolvency practitioners, and commercial courts to have real-time access to all the proceedings published through a specific and individual panel for this purpose.
Depending on the client profile accessing the website, this interface adapts and offers the relevant options they need, allowing eactivos.com to be part of all stages of the liquidation from any device. Likewise, thanks to the usability and responsive design of the platform, eactivos.com has managed to bring together more than 30,000 subscribers in its database, as can be seen in the monthly report carried out by OJD Interactiva, the most important digital media audit firm at the national level.
Our team of engineers has worked for over 2 years on the launch of this new version of our online auction platform, taking into account not only the needs of insolvency practitioners but also those of Judicial Administrators, Court Clerks, as well as business professionals.
Innovation as a development engine
Since its creation, eactivos.com has always taken into account the adaptation of the professional profiles that participate in an online auction process. That is why it has a specific panel for each of them with the aim of optimizing to the maximum the actions they can carry out.
Personal access
The Bankruptcy Administration has privileged access permissions to special services to monitor each of their own proceedings.
Documentation for the court
Once the auction is completed, it will be possible to download a report for the court with all the records of the generated information: submitted bids, visits and their origin, data of privileged creditors, among others.
Certified reports
It has a system for sending notifications via email to all interested users. These communications include reliable documentation and notarial certifications.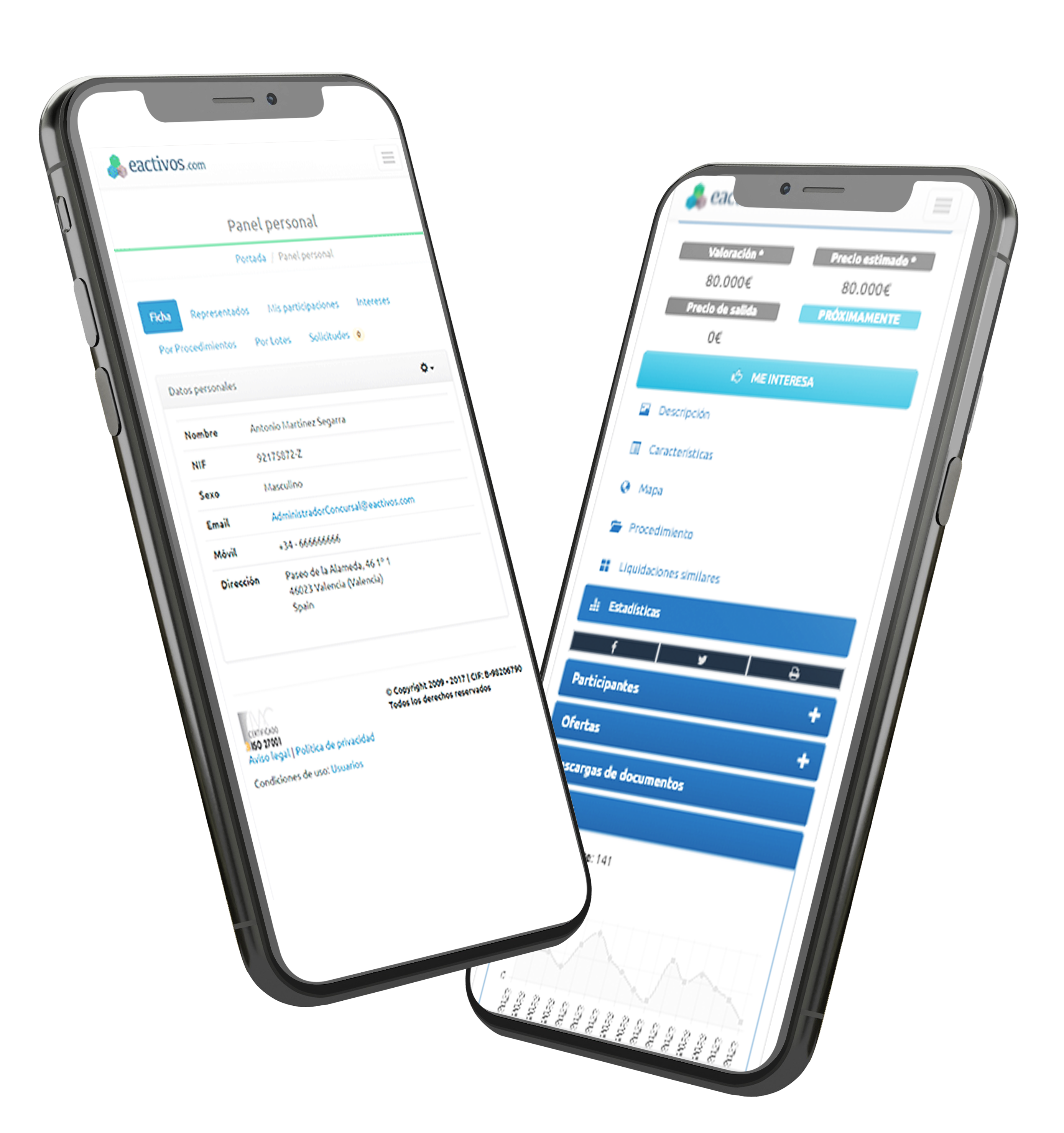 ''We advocate for specific regulation for specialized entities. This ensures conditions and results are guaranteed."
More than a decade ago, our intervention introduced competition, value, and transparency in a poorly defined sector. Since then, we have been advocating for the implementation of specific regulations by the institutions to create a framework of conditions and guarantees that ensures a minimum standard by specialized entities.
The absence of regulation shows difficulties, that is why we continue to demand the establishment of a legal and regulatory framework that guarantees our actions in judicial processes. The promises of legal and regulatory development of the provision remain unfulfilled, and with them, the desire of so many, and of course, eactivos.com, to promote legal certainty for all participants in liquidation frameworks.